Ubiquitous in our daily lives for years, plastic has also become ubiquitous in our environment. You can see plastic bottles, bags, straws, and more washing up on our shores and floating in our rivers, lakes, and streams. And that's just the plastic you can see. Plastic is made to last forever, and it does. Yet 33% of all plastic is used once and thrown away.
Plastic doesn't biodegrade, it just breaks down into smaller and smaller pieces. The toxic chemicals that leach out of plastic get into our environment, our food supply, and ultimately, us. Reducing single-use plastics is one of the biggest environmental challenges of our time.
Tips for Using Less Plastic
It may seem like a ginormous task, but there are things you can do to reduce plastic use. Even small actions add up over time and make a big impact. Getting plastic waste out of the environment is one way to help, another is to use less plastic, so it stays out of our oceans and the environment in the first place.
Many sustainable brands are finding ways to reuse plastic and keep it out of the environment, but we can also help by reducing and reusing everyday plastic items. In addition to turning plastic bottles into boardshorts, if you send us your old swimwear--any brand, not just ours--we'll recycle it.
How to Reduce Plastic Use
Replace items such as straws, cups, and bags with reusable options. Bring a reusable straw with you when you go to restaurants. There are many that come with a case, so you can carry them safely and securely.
Use your own travel mug, cup, or thermos when grabbing a fountain soda or cup of coffee. Even paper cups for soft drinks or coffee are lined inside with plastic resin, so avoid using them.
Instead of plastic ware, use biodegradable or reusable cutlery. Some are made from bamboo that you can wash and reuse. You can also find some made of biodegradable materials that you can toss or compost.
When you go grocery shopping, bring your own bags, including bags for loose produce and avoid the plastic bags provided and prepackaged veggies.
In general, choose glass, paper, or cardboard packaging over plastic. Paper and most cardboards either biodegrade or can be recycled, as can glass containers.
30 Ways to Reuse Plastic
Whether you call it recycling, upcycling, or downcycling, here are some ways you can keep, or at least reduce and delay, plastic from ending up in our oceans and the environment.
Make a hanging garden out of plastic bottles, or mount them on a garden wall. All you need are some scissors, twine, and a place to hang or mount them.
Use 4 oz yogurt containers to start seedlings. Poke drainage holes in the bottom and use a plastic lid to catch drips.
Place plastic lids under furniture that needs to be moved, the furniture will slide easily along the floor.
Convert milk jugs into shelf organizers.
Toss a couple of flat plastic containers into a drawer to help keep things organized.
Store your cords and chargers in a takeout container so they'll always be easy to find.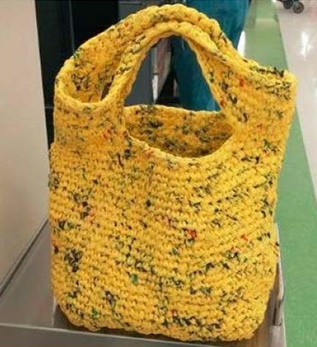 If you're crafty, crochet, or knit a grocery bag from old grocery bags. This saves bags from the landfill, and your homage plarn bag will be much stronger. Or make a basket, placemat, even a blanket.
Make a crunchy water bottle toy for your pup. Grab a water bottle, an old sock, and some scissors. Push water bottle into the sock and tie off each end.
Another great way to reuse plastic takeout containers is to use them for keeping all your receipts organized, just in case you need to return something.
Try this simple method of creating plastic material. Fuse plastic bags together with parchment paper and an iron.
Plastic bottles are great for storing extra paint since gallon cans are bulky, and you never know when you'll need a little touch-up paint.
Turn coffee creamer containers into storage containers. Just remove the label, wash them out, and fill with anything pourable, like sugar, flour, chocolate chips, the list is endless.
Poke some holes in the top of a wide-mouthed bottle, and you've got an instant watering can.
Use plastic bags to stuff pet beds with thick fabric covers.
Make your yard more inviting for birds with a bird feeder made from water bottles and wooden spoons.
Cut slots in a 2.5-gallon water container and use it to store and organize magazines.
Turn empty prescription containers into earbud holders.
Make a plastic door curtain or wall hanging using bottle caps of different colors.
Store toys with small pieces, such as Legos, in empty baby wipe containers.
Use 2-liter soda bottles to store small items such as nuts, bolts, and screws of all sizes in the garage.
Paint two large plastic soda bottles silver, add flames, strap them together and you have a jet-pack costume.
Store dry goods such as beans, rice, and pasta in leftover takeout soup containers.
Get a head start on your garden by turning plastic water bottles into seed starters.
Save your to-go containers and use them to send leftovers home with family and friends.
Use prescription containers into mini travel container for cotton swabs, and other tiny items you want to keep handy.
Turn plastic milk cartons into storage for pens and pencils.
Reuse Ziplock bags whenever possible for traveling, storing dry goods, and keeping things organized.
Need a sprinkler for water in that hard to reach area? Turn a plastic bottle into a sprinkler head.
Turn a water bottle into a votive candle holder with sand, rocks, and an LED candle.
Punch holes in sides and bottom of 2-liter soda bottles and bury them next to plants to create a drip irrigation system.
These are just some of the many ways you can help keep plastic items out of the oceans, and ultimately out of the overall environment. Small actions do add up to big change.
---